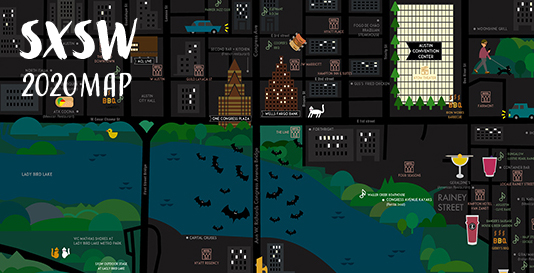 SXSW 2020 MAP - Events and Venues
Note: SXSW 2020 has been cancelled. These events that appear here are based on the original schedule. I mean… these events are virtual.
This is the SXSW event map that shows you around during SXSW 2020. The icons show the events that were supposed to happen in Austin right now!
How to use this map?
Based on the center of the map, or your location if you're in Austin, the icons of the scheduled events appear around you. If you are in Austin, turn on your Location and see where you are in this map.
Tap on the pins and get more details. You can find the sessions, the music, and the films.
Thank you for visiting SXSW 2020 MAP. We were going to showcase this amazing product in SXSW 2020! Sorry we missed the chance to speak with in person. Please reach us through SNS. We'd love to come back to Austin in 2021!